The accidents with the most widespread consequences involve hydrocarbons; these have diminished only slightly since the wreck of the Torrey Canyon in 1967, which spread scenes of desolation along the coasts. It was not that pollution had not existed previously, but that event marked the combined onset of rising tanker size, growth in traffic, increased coastal settlement and awareness of environmental issues. More or less serious incidents followed, for example the Amoco Cadiz (1978) but they diminished in proportion to numbers of vessels, traffic having increased considerably. The Erika incident (1999) marked the beginning of increasingly powerful public and institutional reaction. Chemical tankers have also had their share of accidents (e.g. Ievoli Sun, 2000) although so far incidents involving them have been less serious. In 2007, the managed beaching of the MSC Napoli in Lyme Bay on the Dorset coast – a UNESCO World Heritage site – showed what could happen again. For the first time, in the winter of 2007, British and French authorities banned entry into the Strait of a container ship coming from the North Sea. Battered by a violent storm it constituted a danger.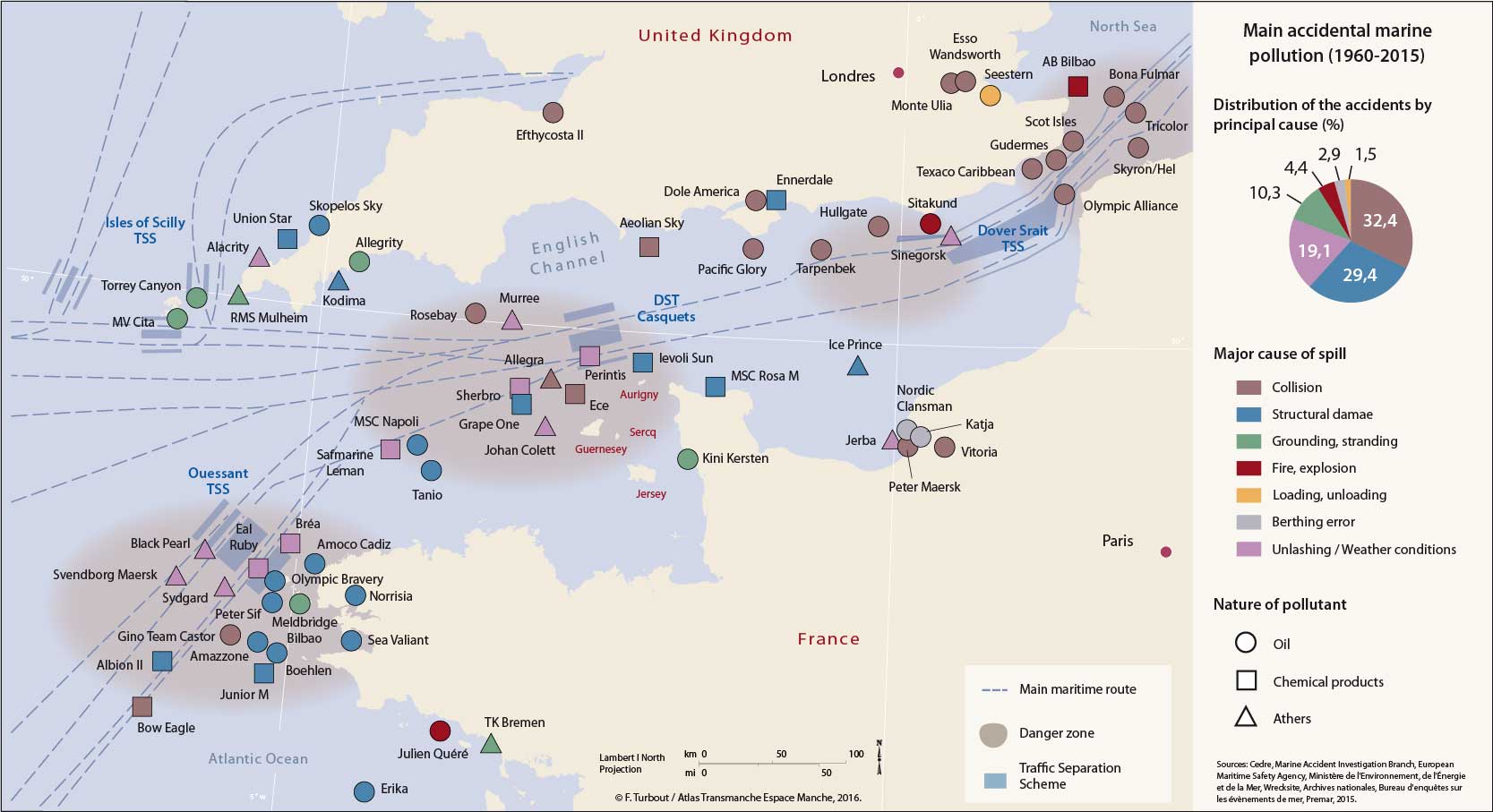 Since 2008, no major spill incident involved hydrocarbons or chemical products. But the number of lost cargo (containers, timber) has risen sharply: lost, and floating just beneath the surface, they constitute a hazard.
 
 

On 14 January 2008, the Greek bulk carrier Ice Prince suffered total power failure while in the Channel. Due to very rough sea and weather conditions, the vessel sank the following day, half-way between Cherbourg (Normandy) and Portland (England) in waters under British jurisdiction. 2,000 tonnes of timber stacked on deck fell overboard.

The timber lost at sea eventually washed up on the shores of Sussex (England).

Sinking of the Ice Prince on 14 January 2008

Source: EMSA 2008 - © Marine Nationale

 

Timber from the Ice Prince cargo ship, which sank off the Dorset coast,

is washed up on Worthing beach in West Sussex - ©

BBC News

, 2008.
 
 

 

 

 

On 14th February 2014, the 8,160-TEU Danish container ship Svendborg Maersk lost 517 containers in Storm Ulla, while travelling southwards past Ushant Island. Most of them sank. This was a record-breaking number of containers to be lost overboard. Extreme weather conditions prevailing on site and a conversion of the vessel, in 2012, making it possible to add two or three more layers of containers and thus increasing the ship's capacity by 3,000 TEU, but affecting the stability of the cargo, having contributed to the incident.

(source CEDRE)

Svendborg Maersk after departure from Rotterdam on 13 February 2014

Source: Frans Sanderse/Shipspotting

 

Sendborg Maersk at arrival in Malaga on 19 February 2014.

Source: Frans Sanderse/Shipspotting
The English Channel is a particularly dangerous sea and one of the busiest in the world, is also one of the best monitored.
top