Bournemouth, in the county of Dorset (although a unitary authority since 1997), is immediately adjacent to Poole on its Eastern edge. The growth of the borough, primarily attributable to tourism, may be traced back to the beginning of the 19th Century. Whilst the borough grew slowly during the first part of the century, the arrival of the railway in 1870, heralded a period of very rapid growth. With a mild climate, extensive beaches and an array of tourist and visitor facilities Bournemouth has become not only a popular holiday resort and retirement destination but also one of England's most popular conference and convention centres.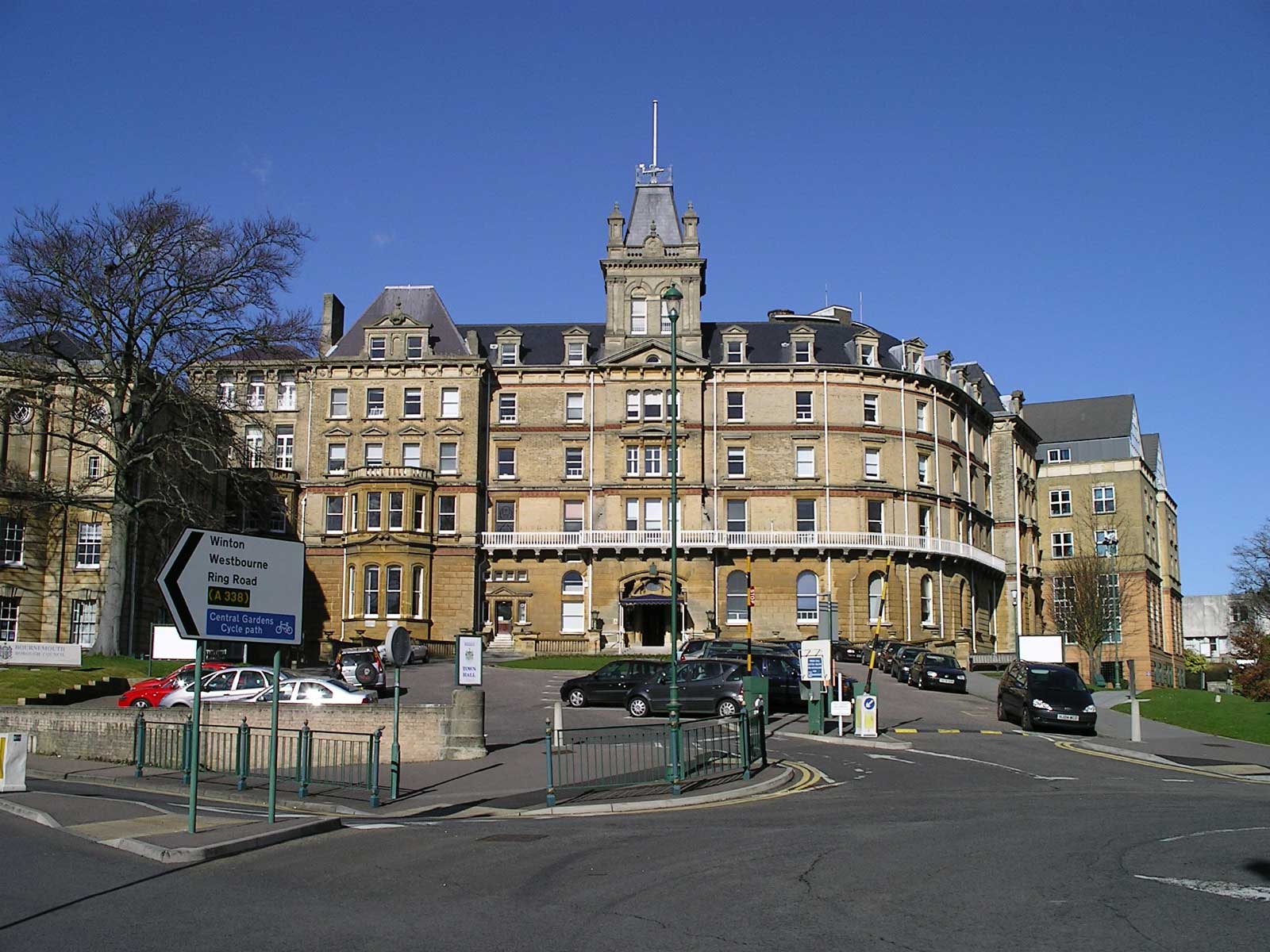 Economically the borough is still heavily reliant on tourism and the servicing of its large residential population, there has been considerable development of light industrial and service sector enterprises on the fringes of the borough. The University of Bournemouth is home to the National Centre for Computer Animation and the Department of Trade and Industry (DTI) Centre for Microelectronics in Business.
Bournemouth Borough Council administers an area of 46.51 square kilometres (Ordnance Survey 1992) containing a population of 161 500 people (Registrar Generals Home Population Estimates, Mid-1997). The population of the borough has grown by approximately five per cent since 1971 although there was a decline in population between the 1971 and 1981 Censuses of approximately six per cent (Censuses of Population 1971, 1981; Registrar Generals Home Population Estimates, Mid-1997).
The economy of Bournemouth is dominated by service sector employment, especially in distribution, hotels and restaurants which accounts for 29.3 per cent of total employment (Annual Employment Survey, 1995). Other significant sectors include public administration, education and health (23.4 per cent) and banking, finance and insurance (20 per cent). Overall the service sector accounts for 82.3 per cent of total employment in the borough, manufacturing and construction employs 16.7 per cent of the workforce and only one percent of all workers are employed in primary economic activities.
The local economy
Growth in the service sector has been concentrated in the tourist and financial services sub-sectors. Bournemouth is a major national conference centre and holiday resort and has recently benefited from the redevelopment of the town square and the addition of an IMAX cinema. Several companies have announced major expansion plans in the Bournemouth area including the Portman Building Society (financial services), Chase Manhattan Bank (financial services) and WamNet (computer software).
The expanding Bournemouth International Airport has also attracted a number of new companies and resulted in the expansion of existing ones. European Aviation, based at Bournemouth, continues to expand its aircraft leasing business and Bombardier Services has recently secured a 100 million contract to supply the Royal Air Force with training aircraft.
Economic growth in the area (measured as gross domestic product at factor cost) has, between 1993 and 1995, exceeded the average for the UK by approximately 3.3 per cent (Economic Trends) and is forecast to rise by approximately 3.2 per cent per annum between 1997 and 2000 (Bournemouth Borough Council, 1999). Forecasts for the UK indicate a growth rate of 2.4 per cent per annum indicating that the Bournemouth area enjoys a economic climate that performs better than the UK as a whole.
Business and commerce
In 1996 there were 6 680 enterprises operating within the Bournemouth Borough Council area (Annual Employment Survey, 1996) with 4 020 of them registered for Value Added Tax (VAT) purposes (at present only companies with a turnover in excess of 52 000 per annum must register for VAT). Whilst many of these enterprises are small or medium sized there are a number of larger companies located within the area, Abbey Life (financial services and insurance), Lloyds Bowmaker (financial services) and the Portman Building Society all have their national headquarters situated in Bournemouth. Other major employers include Zurich Municipal Insurance Ltd (insurance), Chase Manhattan Bank (financial services) and Liverpool Victoria Insurance (insurance).
Current levels of employment by economic sub-sector tend to mask the large scale growth of employment in the borough over recent years. By far the largest growth, especially in relation to growth in GDP has been in banking, finance and insurance although public administration, health and education have grown by 25.6 per cent since 1991 (Bournemouth Borough Council, 1999). Manufacturing, whilst of small importance to the local economy, has been increasing in importance with an 18 per cent rise in employment levels between 1991 and 1996 (Bournemouth Borough Council, 1999).
Tourism
Tourism, day trips, vacations and conferences are vital to the towns economy (Bournemouth Borough Council, 1999, 5). Bournemouth has the largest concentration of serviced (hotel and bed and breakfast) accommodation outside of London and attracts over two million staying visitors per year, a figure supplemented by 4.5 million day visitors per annum. Over 470 million per year (1995) is ploughed into the local economy each year, approximately 11 per cent of all direct tourist expenditure for the entire South of England is concentrated in Bournemouth (Bournemouth Borough Council, 1999).
Bournemouth attracts a great deal of conference and convention business which contributes over 64 million to the towns economy each year (Bournemouth Borough Council, 1999). With a selection of venues the town is able to host conferences of up to 10 000 delegates and exhibitions of up to 5 000 square metres.

Education
Over 70 million per annum is derived locally from the teaching of English as a foreign language, a figure only exceeded by London. More traditionally Bournemouth University has over 10 000 students supported by over 900 staff, contributing an estimated 50 million per annum to the local economy. Bournemouth and Poole College of Further Education has approximately 20 000 students enrolled on courses who are supported by 1 000 staff. Education is seen as important to local life and the local economy on the grounds that the cultural life of the borough is enhanced, the students provide a pool of qualified and skilled labour and contribute greatly to the local economy.
Retailing
Over 3 500 people are employed within the retail sector in the town centre alone. Bournemouth lays claim to be a regional shopping centre with a catchment area of approximately 750 000 people (Bournemouth Borough Council, 1999). The council continues to enhance the retail centre of the town with the recent completion of a 10 000 square metre retail complex and nearly 2 million invested in the renovation of the town centre.
Communications
Bournemouth is well served by transport links (as is the neighbouring Borough of Poole) of a higher standard than for the rest of the county of Dorset. The driving time from Bournemouth, via well maintained AA roads and motorways, to Portsmouth (the furthest East of the South Coast Metropole members) is 51 minutes, to Southampton is 35 minutes, to London 2 hours 12 minutes, to Bristol 1 hour 53 minutes and to Birmingham 3 hours and 4 minutes (Bournemouth Borough Council, 1999). Travel from Bournemouth to London (Waterloo) takes 1 hour 47 minutes and direct services are also available to Scotland, the North East of England and the Midlands.
The Borough of Bournemouth also enjoys easy access to port facilities in Poole for travel to and from France and the Channel Islands, to Southampton for travel to the Isle of Wight and to Portsmouth for travel to the Isle of Wight, the Channel Islands, France and Spain. Cargo facilities are also available in Poole for Bournemouth based enterprises engaged in import and export trades. Bournemouth International Airport continues to expand its operations with regular flights to and from Dublin, Edinburgh, Glasgow and Amsterdam. The airport is also increasing the number of charter flights to Spain and other destinations on mainland Europe.
The Labour Force
The overall population of Bournemouth (based on the Bournemouth Travel to Work Area) grew by 2.6 per cent between 1987 and 1997, it is predicted that the total population will have increased by approximately 4.0 per cent by 2011 (Bournemouth Borough Council, 1999). In terms of structure the proportion of elderly residents is forecast to drop from 27 per cent in 1991 to 23 per cent in 2011, by this year the proportion of residents in the 45 to 65 year old group is anticipated to rise to 23.2 per cent (Bournemouth Borough Council).
top